Back Out of Stealth: MiaSole Goes After New Solar Markets With Next-Gen Flexible Solar Product
by Julia Pyper for GreenTech Media, September 15, 2016
Solar industry leaders talk about the need to install solar everywhere. Some companies are taking that literally by developing new products they claim can expand solar power infinitely.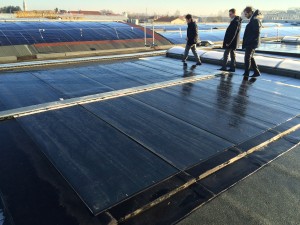 This week, as Solar Power International kicked off in Las Vegas, Hanergy-owned MiaSolé announced the launch of its new "flexible, thin, ultra-light, high efficiency, shatterproof modules" that the company expects to open up new solar markets and enable manufacturers to integrate solar in unique ways.
This is the first major product announcement for MiaSolé since it was acquired by the Chinese renewable energy company Hanergy at a fire-sale price in 2013. (China's Hanergy had its shares suspended for one year in 2015 due to an investigation over financial manipulation. It now says its thin-film division is profitable.)
According to the company, the flex series panels are up to 17 percent efficient, which is significantly higher than previous flexible solar technologies. The panels come in a bendable form factor that's four times lighter than traditional rigid solar panels, and just 2.5 millimeters thick. The product can be configured in various sizes and adapted to any building-integrated photovoltaic (BIPV) application by attaching directly to surfaces with a peel-and-stick adhesive.
Anil Vijayendran, vice president of product sales and marketing at MiaSolé, said the product represents "a generational shift compared to previous limitations of rigid glass panels, and has reached a new level of efficiency and adaptability."
When crystalline silicon PV began dominating the market, it became very difficult to differentiate CIGS products purely on cost, said Vijayendran. MiaSolé was making a double-sided glass panel and had sold roughly 90 megawatts of the product when Hanergy acquired the company in 2013. After raising around $500 million in venture capital, MiaSolé sold for just $30 million. With the acquisition, MiaSolé pivoted from making rigid glass CIGS panels to the flexible design and has effectively been operating in stealth mode — until now.