For about 30 years, the old 63-acre landfill off Washington Avenue, just a few blocks west of South Dixie Highway on the south end of Lake Worth, has been empty, long forgotten, in a sense.
But the city has found a new — and important — purpose for the site.
On Oct. 11, officials will raise the curtain on a 14-acre solar energy field they say can generate enough clean energy to power more than 250 homes and reduce carbon emissions by 4 million pounds — the equivalent of taking 400 cars off the roads.
"It was important to take what is considered an environmental scar and turn it into a clean energy production site," said City Manager Michael Bornstein.
Lake Worth is only the third city in Florida to build a solar energy farm, according to officials.
The field features three arrays made up of solar panels. There are a total of 6,900 panels. The site will account for two megawatts of power, which is two percent of the city's power generation needs, Bornstein said.
Over time, the power generated from the site could be expanded to 10 megawatts. The site is scheduled to be operational by December, Bornstein said.
Clearly, by turning to the sun, the city is on a path to diversifying its energy sources, a move that could help it withstand volatile market changes.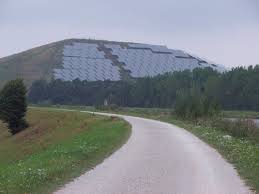 "Once solar is installed, it's not subject to cost variations like other sources of electricity," said Bryan Reardon, cities infrastructure executive for Siemens, the German-based engineering company Lake Worth has partnered with on the $2 million project. "Natural gas prices rise and fall, coal prices rise and fall, but here, you have a consistent production of dependable energy at a predictable price for a plant that will generate energy for the city for 30 years."
As for how the city will pay for the project, Reardon said it will be paid out of the money the city is expected to save by not having to buy power from the spot market. If the field doesn't generate the expected power, then Siemens would make up the difference, Reardon said.
Talk of turning to solar energy goes back about five years when the state put into legislation a process that allowed companies to work with local governments, giving them the opportunity to buy new equipment through energy savings.
"The city is financially strapped," Bornstein said. "This was a way for us to get new equipment, save energy, reduce our carbon footprint and get the latest in technology."