A new building in Copenhagen is covered by 12,000 colourful solar tiles, making it one of the largest building-integrated solar power plants in Denmark.
By Peter Koekoek for Daily Planet
The tiles completely cover the building and will provide it with 300 MWh of electricity per year, meeting over half of the new campus of Copenhagen International School's energy needs.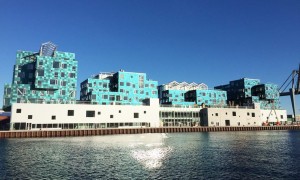 But aside from being the largest installation of its kind in the world according to the developers, the tiles are also architectural features in their own right.
Based on a new technology developed in Switzerland, the tiles are a distinctive "sea green" – not unlike Copenhagen's iconic Little Mermaid statue.
The unusual color is the result of a complicated process of light interference developed over more than a decade in the labs of the Ecole Polytechnique Federale in Lausanne (EPFL).
Special Filters
It took the researchers 12 years to figure out how they could define the colour of their solar tiles without adding any pigments to the materials.
By ensuring that only certain wavelengths are reflected, they can now make the tiles appear in colours such as brick red, royal blue, golden yellow or sea green as used in Copenhagen.
The researchers developed special filters, which they applied to the glass panels in nanometric layers. The filter design determines which wavelengths of light will be reflected as visible color.
You may have seen a similar effect in a soap bubble or in a layer of oil on the surface of water.
"The iris effect creates a colorful rainbow on a very thin layer. We used the same principle and adapted for glass," said Jean-Louis Scartezzini, the head of the Solar Energy and Building Physics lab at EPFL.