The company's "Project Sunroof" now shows you which of your friends have already put solar panels on their roof.
From The Atlantic by ROBINSON MEYER
One of the best predictors of whether people install solar panels on their house isn't their age, their race, their level of income, or their political affiliation.
It's whether their neighbors did it first.
This finding has been shown repeatedly across space and time, including in California, Connecticut, Germany, Switzerland, and the United Kingdom. "It happens at the street level, it happens within zip codes, it happens within states. It seems to be a common feature of human decision-making that crosses many boundaries," says Kenneth Gillingham, a professor of economics at Yale University whose study helped establish the finding.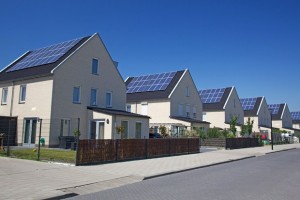 On Monday, Google will put the finding into practice with Project Sunroof, its free online tool that aims to make it easier for people to obtain and use home solar panels. Project Sunroof will now not only inform users how much sun hits their roof, or how much solar panels would save them per month, but also which of their neighbors have taken the plunge first.
Project Sunroof was launched in 2015 by Carl Elkin, an engineer at Google who had worked on local solar-installation campaigns in Massachusetts. It now provides data for 60 million homes across the United States that it has already assessed with its algorithms.
For the past two years, Project Sunroof has walked people through all the information-gathering steps of installing solar panels: After you tell it where you live, its algorithms estimate how much solar energy falls on your roof, calculate how much solar panels would reduce your electricity bill, and deliver estimates from local installation firms like Solar City.
It can also walk you through similar steps if you're interested in leasing or borrowing panels. "It highlights that, for many people, solar is often free. In many cases, including for my house, solar is better than free," Elkin told me last week.
Now—in a nod to the powerful peer effects of solar power—it will also show you which of your neighbors have already installed panels. In its map view, Project Sunroof will show a red dot over any home or structure that appears to have rooftop solar.