By Dom Galeon for Futurism
THE SUN GOES UP, AND OIL GOES DOWN
Last 2016, solar power saw a resurgence — from cheaper solar panels to innovative roofing for houses and cars, to solar powered roads, and even to powering an entire island. It seems we have entered a new age in solar energy. Well, it doesn't end there. In the years to come, we may see the rise of solar power, according to Thierry Lepercq, French energy company Engie SA's head of research, technology, and innovation.
"The promise of quasi-infinite and free energy is here," Lepercq declares, in an interview with Bloomberg. His arguments aren't based on any environmental concern. Rather, he takes the perspective of price.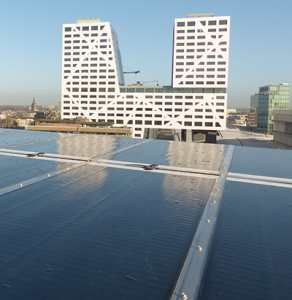 "Solar, battery storage, electrical and hydrogen vehicles, and connected devices are in a 'J' curve," Lepercq said. "Hydrogen is the missing link in a 100 percent renewable-energy system, but technological bricks already exist." Lepercq believes that the price of solar power will probably fall below $10 per megawatt-hour (roughly 1¢/kWh) in the world's sunniest places.
As a consequence of the rise of renewables, oil prices are expected to plummet. "Even if oil demand continues to climb until 2025, its price could drop to $10 if markets anticipate a significant fall in demand," he said.
"As carmakers offer more electrical vehicles with a range exceeding 500 kilometers, charging stations being progressively deployed and more cities banning gasoline and diesel cars, a shift will progressively take place," Lepercq added.