'A solar Saudi Arabia'
While Trump promotes coal, Chile and others are turning to cheap sun power
By Nick Miroff  for the Washington Post 
MARIA ELENA, Chile
On the solar farms of the Atacama Desert, the workers dress like astronauts. They wear bodysuits and wraparound sunglasses, with thick canvas headscarves to shield them from the radiation.
The sun is so intense and the air so dry that seemingly nothing survives. Across vast, rocky wastes blanched of color, there are no cactuses or other visible signs of life. It's Mars, with better cellphone reception.
It is also the world's best place to produce solar energy, with the most potent sun power on the planet.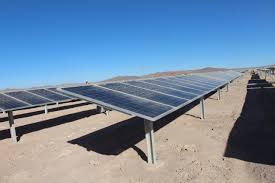 So powerful, in fact, that something extraordinary happened last year when the Chilean government invited utility companies to bid on public contracts. Solar producers dominated the auction, offering to supply electricity at about half the cost of coal-fired plants.
It wasn't because of a government subsidy for alternative energy. In Chile and a growing list of nations, the price of solar energy has fallen so much that it is increasingly beating out conventional sources of power. Industry experts and government regulators hail this moment as a turning point in the history of human electricity-making.
"This is the beginning of a trend that will only accelerate," said Chilean Energy Minister Andrés Rebolledo. "We're talking about an infinite fuel source."
President Trump ordered U.S. regulators this week to reverse Obama-era policies aimed at curbing greenhouse gas emissions, and he has promised to "bring back" the U.S. coal industry. But construction of coal-fired power plants dropped 62 percent over the past year worldwide, according to a survey by the Sierra Club and other activist groups. In China last year, the number of new permits for coal-fired plants fell by 85 percent.
More worldwide generating capacity is now being added from clean sources than coal and natural gas combined, according to a December report by Bloomberg New Energy Finance, which closely tracks investment in renewables.