MiaSolé announced a new generation of FLEX Series solar panels for BIPV applications, with a 17% efficiency and a weight of 0.5 lb./sq. foot, four times less than glass panels.
MiaSolé, based in Santa Clara, CA., says that the price point for its thin-film Copper Indium Gallium Selenide (CIGS) solar panels rivals rigid panels. The 2.5 mm flexible panels are highly shatterproof and resistant to wind and seismic activity. The panels also are peel and stick and can be installed in any location, including fixed to geomembrane covers over landfills, or wrapped around solar light poles.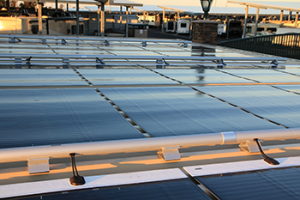 The company has achieved high volume scale production earlier this year and has begun shipping volume orders. MiaSolé runs production from a 100-megawatt factory in China and a pilot line in Santa Clara, CA. The flexible panels, available in various configurations up to 380 Watts, carry a 25 year warranty.
MiaSolé panels will be exclusively available through Inovateus Solar, a South Bend, IND.-based solar design, procurement and construction (EPC) company. Inovateus has developed and built more than 250 megawatts of utility, commercial and industrial, and microgrid solar systems in the U.S., the Caribbean, and Latin America.
The flex panels are already in production with over 100 installations and counting. MiaSolé has partners in the roofing, building and transportation industries as well as other areas covering on and off grid applications such as light poles and large solar reservoir covers.
McElroy Metal, a leading supplier of advanced roofing solutions, is partnering with MiaSolé to create innovative solar roofing solutions for the U.S. market. "We are very excited about our partnership with MiaSolé. Their thin-film solar modules are aesthetically pleasing and attach very easily to our roofing systems, because they have a factory-applied adhesive that works well with our metal panel roofing," said Ken Gieseke, the vice president of marketing for McElroy Metal, based in Bossier, LA.
MiaSolé also recently announced a strategic partnership to sell solar solutions in Japan, where many roofs are made of concrete.
In 2012, MiaSolé joined Hanergy's Thin Film Power Group as MiaSolé Hi-Tech. Hanergy provides financial, technical, and sales expertise for the company.