More solar projects start serving neighborhoods rather than just individual houses. But the movement is still in its early stages, especially in lower-income communities.
By Zack Colman
Dant'e King is selling sunshine and potential.
The former nuclear-plant worker is priming residents of Baltimore and Washington on a different kind of power: "community solar." The idea is to allow people to go solar even if they don't have a lot of money or a rooftop of their own.
Mr. King has hit the pavement in low- and middle-income communities – regularly popping up at neighborhood association meetings and churches – to spread the gospel about community solar.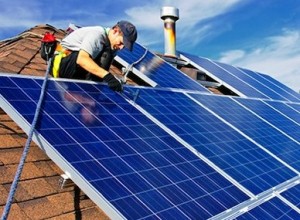 "I don't think it's a matter of whether it's too expensive or not. I think the misperception is that it's exclusive," says King, who is director of community outreach for Groundswell, which is seeking to connect customers with a growing number of developers in this nascent slice of America's solar industry. He is also senior pastor at a Maryland church – and sees his power-to-the-people effort as flowing from a deeper sense of duty to the planet.
No longer will solar be for the "white yuppies," as King (politely prefaced with a "no offense" warning) puts it.
In one new project Groundswell is participating in, a large Washington church is creating a solar-paneled canopy for its parking lot. The resulting power will flow on to the local electric grid and then be purchased by about 150 ratepayers who are seeking clean energy. Groundswell anticipates the deal will cut electricity costs at least 10 percent for low- or moderate-income subscribers.
That's one example of the egalitarian vision of community solar, which can take a variety of forms across the country. Sometimes residents band together in cooperatives or similar setups, pooling their resources to create an array of solar panels in a centralized location. The credit-score limits for participating are thought to be less restrictive than for self-financing an individual rooftop solar system, so advocates believe people of modest means will be able to afford community solar.
Although the grand vision is not coming to fruition quickly – partly because financiers are still skeptical – King says he's unfazed.
"Everything is in its infancy stage" with community solar, King says. He says there are definitely potential customers waiting. "I haven't met anyone who has a negative response about it or doesn't want to know more about it."